Overview
With vocals, guitar, banjo, fiddle, mandolin, and bass fiddle, Matthew Sabatella and the Rambling String Band connect people with music that is woven into the fabric of the United States. They raise the roof with traditional folk songs, bluegrass, old-time country, fiddle tunes, Appalachian music, ragtime, blues, spirituals, railroad and cowboy songs, work songs, sea shanties, reels, breakdowns, ballads, and more. This is American heritage music. This is your birthright. Own it.
Matthew Sabatella and the Rambling String Band have an energy and repertoire that are perfect for many different types of events and venues, including festivals, performing arts centers, theatres, community events, corporate events, listening rooms, nightclubs, coffeehouses, house concerts, museums, libraries, schools, summer camps, condos, and communities.
Depending on the type of event and venue, they might keep it fast-paced, lively, fun, and familiar, or they might dig deeper into the American songbag and delve into the stories behind the songs and the people who brought them to life. No matter what age group or age range is in the audience, Matthew Sabatella and the Rambling String Band know how to put together a show that will entertain all.
The size of the band can be scaled depending on the budget and what is appropriate for the audience and venue. See the Contact page to get in touch with someone to discuss your venue and audience.
---
For information about solo performances by Matthew Sabatella, please visit his website.

---
Reviews
"Our audience absolutely loved this performance! Everyone left with big smiles on their faces, and many people said it was the best show of the season. We look forward to having Matthew Sabatella and the Rambling String Band back next year!"
Mary DeCeccho (Director) – Wynmoor Theatre
​"Matthew Sabatella and the Rambling String Band captivated the Starlight Theater audience with their performance. Matthew's beautiful voice along with his impressive knowledge of American music, delivered a unique and wonderful show. The band's sound is exceptional. We had nothing but rave reviews from residents and guests. This is a multimedia show that you don't want to miss!"
Rosi Aponte (Entertainment Director) – Starlight Theater
"We are still talking about how great you and The Rambling String Band performed. Thank you for your professionalism and exceptional artistry. We already know that we want you back for three sets next year, too!"
Carla Hill (Theater Education & Outreach Manager) – South Miami-Dade Cultural Arts Center
"Led by Sabatella's six-string guitar and his molasses baritone, the band's big sound rolls from Luna's makeshift stage across a room filled with tri-county patrons… Tonight's crowd is extra large, lining up against the walls and squeezed three deep between cases of beer and the cafe's ancient black refrigerator. Along with the band, almost everyone is singing: 'Heigh, ho, and away we go; Digging up the gold on the Fran-cis-co!'"
Emma Trelles – Sun-Sentinel
"Miraculously, Hollywood-based folkie Matthew Sabatella has packaged a history lesson in the guise of a strikingly good album and a nerdaliciously compelling live show that tell the story of western expansion across the American heartland through song… ' It's the kind of thing that will appeal to just about anybody,' Sabatella says of the songs on Ballad of America Volume 1 , most of which date back to the early 1800s. The crowd at the Bamboo Room reflected that sentiment, as moms, grandmoms, longhairs, blue collars, and a gaggle of wine-sipping, Virginia Slims-puffing ladies all clapped along and sang like ornery lumberjacks to lines like 'And we'll range the wild woods over, and once more a-lumbering go!'"
Jonathan Zwickel – New Times Broward/Palm Beach
"This particular afternoon, Sabatella and his close-knit combo — Lynn Griffith on banjo and mandolin, Jack Stamates on fiddle, Sean Edelson on mandolin, and Chris DeAngelis on stand-up bass, with Sabatella on guitar and vocals — play to a tent filled nearly to capacity, its occupants clearly caught up in the familiar strains of the music and, just possibly, a certain whiff of nostalgia."
Lee Zimmerman – Miami New Times
"Wow… this group was so good. I loved them. The residents loved them, and we definitely want to have them back again. The fact that it is historic and interactive along with entertaining was unique."
Rebecca Waldorf (Director of community Relations) – Aston Gardens at Parkland Commons
"Rare is the event that engages both me and my young ones in a genuine way."
Ben Crandell – Sun-Sentinel
"…Sabatella's best asset is easily his voice, urgent but unforced, sweetly melancholy in telling personal stories and powerfully evocative in rendering antiquated songs intimate again. It's a great gift, and Sabatella wields it with exceptional talent."
"Best Acoustic Performer" – New Times Broward/Palm Beach – Best of 2005
"What a great concert, thank you SO much for such a fun afternoon! Everyone in the audience, young and old alike, enjoyed hearing the stories and songs of our country. All the different instruments your band played, and hearing such beautiful vocal harmonies really made for a thrilling experience we will never forget."
Lisa Mansell (Sunday Matinee Music Series Manager) – Spanish River Library
"What an excellent production, performance, and presentation! Everyone should make an effort to attend one of his shows; it's perfect for all ages. You will be rewarded with a wealth of great music, singing and storytelling as you hear the true blue lyrics of the great folk songs of the U.S. This is an outstanding and original program."
Anne Kelly – Brockway Memorial Library
"Matthew Sabatella and the Rambling String Band are totally amazing! I cannot praise them enough! Matthew related all of the songs to the era of Tom Sawyer and Huck Finn. It was wonderful. The entire band is great! They are personable, relate to the audience and can perform almost anything I'm sure"
Nancy Ansley (Programs and Exhibits Supervisor) – Broward County Library
"Just taking a moment to once again say your performance was just perfect! The rave reviews keep coming in. Thank you all for a wonderful show. See you again."
Marsha Decker (Clubhouse Manager/Social Director) – The Grove at Boynton Beach
"Thank you so much for the amazing show yesterday! All day we have been getting rave reviews from the residents saying it was the best Fourth of July show we have ever had at John Knox Village. You all were great!"
Sara Berkowitz (Activities Manager) – John Knox Village
---
Videos
These performance montages showcase different aspects of the Rambling String Band's repertoire. Every venue and audience is different, and the band knows how to choose the right songs for the setting.​
Goodtime Mix features fun, upbeat songs from America's past. These are songs the band might play at an outdoor festival, municipal event, private party, barbecue, or corporate event.
American Heritage Mix features a variety of the quintessential American musical genres that make up the band's repertoire.
American Classics Mix features songs that are (or should be) well-known to most Americans. These are essential American songs that are perfect for many occasions.
Deep Cuts Mix features lesser-known American songs, many of which highlight specific aspects of the story of the United States. These might be more appropriate for concert settings in listening rooms, coffeehouses, and house concerts for folk-savvy audiences who want to dig a little deeper into American music.
---
A Celebration of America's Music:
From Plymouth Rock to Rock & Roll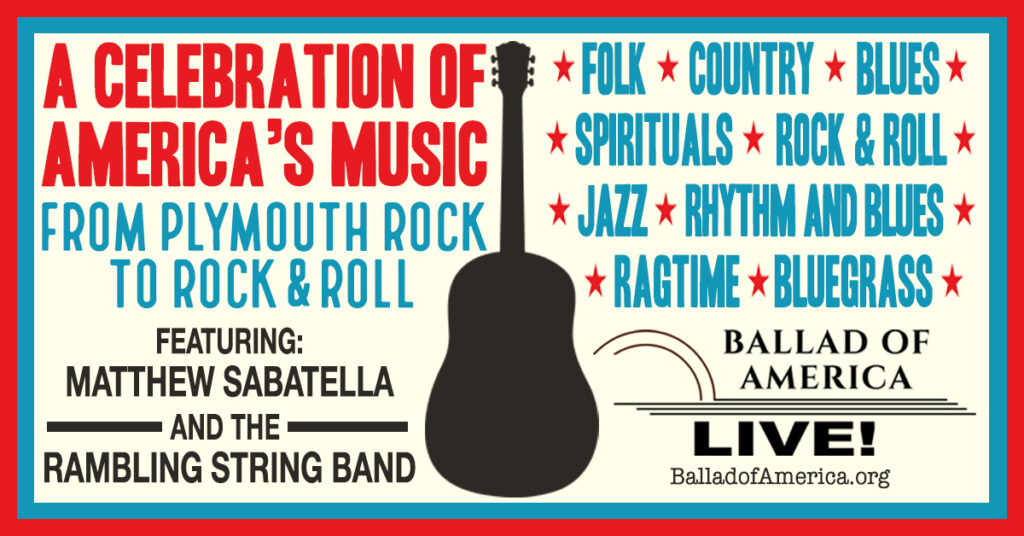 Take a journey through time and celebrate the multicultural nature of the music of the United States. Matthew Sabatella and the Rambling String Band perform the songs and tell the story that connects traditional folk music, spirituals, fiddle tunes, Appalachian music, ragtime, blues, rhythm and blues, jazz, country, bluegrass, and rock & roll. Immigrants, both voluntary and involuntary, have been carrying their musical traditions to the New World since before the United States became an independent nation. New songs and styles emerged from encounters among diverse people and the unique American experience itself. As America changed, grew, and pushed its boundaries, so did the music. Beautiful projected images enhance this fun and unique experience for all ages.
Other multimedia programs are available that entertain, inspire, and inform. In each of the Ballad of America Live programs, Matthew Sabatella weaves an engaging narrative through a selection of songs and historic images that illuminate a theme or story from America's past. They can be delivered at live in-person events or in an online format, such as Zoom, GoToWebinar, etc. View topics and program descriptions on the Ballad of America website.